EFFECTIVE ADVERTISING TIPS FOR YOU 
Advertising is a marketing communication technique aimed at promoting a product or service at a cost for your organization or company. Advertisements are as good for businesses as food is for the human body.
It provides a channel for brands or organizations to meet their targeted market. It also helps to inform and persuade potential customers to purchase a specific brand's goods.
Advertising usually functions through agencies which are referred to as advertising agencies or marketing agencies. They frequently advertise to improve the brand's image. Every major channel and advertising instrument is employed to transmit its message for this aim.
Television, radio, cinema, magazines, newspapers, video games, the Internet, and billboards are among the most widely used mediums. A corporation normally hires an advertising agency to help them spread its message.
Advertisements are commonly seen on the road, in airports, on the sides of buses, at bus shelters, and elsewhere. They are strategically positioned in locations where viewers can quickly and readily access visual, oral, and printed information.
THE FOLLOWING ARE SOME TYPES OF ADVERTISING:
1. ADVOCATE ADVERTISING: It is mostly used to raise awareness about economic, political, or social concerns. It might come in the form of a billboard, a message, or a public announcement and is used to sway public opinion to support a cause. A structured effort to persuade the audience and develop their attitude on a certain subject is the goal of advertising through this media.
2. COMPARATIVE: It is based on the concept of comparison. One brand is contrasted to another or even many competing brands, either directly or indirectly. This methodology is being used by major companies such as airlines and vehicle manufacturers.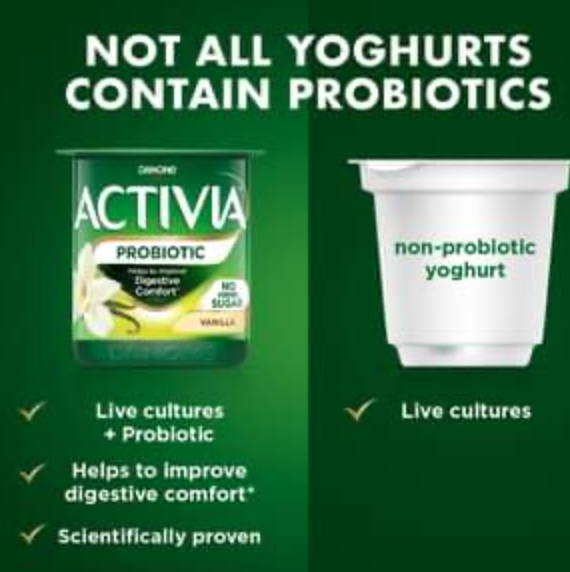 The image above is used to compare the benefits of probiotic and non-probiotic yoghurt to push their point, therefore, increasing brand consumption 
3. COOPERATIVE: The crucial component here is sharing. In this type, two parties split the expenditures incurred.
4. DIRECT-MAIL ADVERTISING: Emails, catalogs, flyers, letters, and postcards are just a few examples of direct-mail advertising. For this type, a lot of personal information is necessary.
5. POINT-OF-SALE ADVERTISING: In this style, incentives i.e. motivating factors, play a big role. Promotional materials, like packaging and presentation, are designed to attract customers and encourage them to buy the product.
In the image of Point of Sale Advertising above, the sale discount of 70% is the tool being used to draw customers' attention to purchase a product. 
6. OUTDOOR ADVERTISING: Billboards, building wraps, and other forms of outdoor advertising are examples. This type is particularly successful when used in high-traffic places where a large number of people visit and may purchase the goods nearby.
People will always notice your ad on the billboard since outdoor advertising is so successful. It's inescapable, and it provides the visibility your company needs.
The picture above represents different examples of outdoor ads that can be used by an organization
EFFECTIVE ADVERTISING TIPS:
1. EMPLOY THE RIGHT MEDIA: When billboard advertising is used in conjunction with the appropriate medium, such as television, radio, or newspapers, they would have a significant influence.
2. BE CONSISTENT: Your Ad message should be conveyed in a consistent manner, that is, easy to recall by the target audience. The style of business cards, firm letterheads, envelopes, and other materials should be uniform and not changed frequently.
3. EXPRESS DYNAMISM: Being one-of-a-kind can help you stand out when advertising. Your ability to capture the attention of your target audience will most likely be determined by the impression you make in the initial few seconds of your advertisement. You must think outside of the box. Be creative when it comes to coming up with fantastic concepts that can increase customer involvement.
4. VISUALIZATION: Make sure that all of the information in your advertisement is viewable. Make the printing large enough to be noticed from a distance if it's a print.
5. GREAT DESIGN: You don't want a distracting design that drivers will avoid looking at for their safety. Make your ad design clear and plain when advertising. This would help people grasp it right away. Consider the aim of your advertisement before creating a design. Consider your target audience and generate content that will appeal to them. Remember that your advertisement will be competing with those of your rivals, so make it more enticing and imaginative.
6. USE IMAGES WITH HIGH RESOLUTION:  Using high-resolution images would attract individuals to the ads. With these photos, there is little or no use to describe the product or service to your target market.
7. IT SHOULD BE TO AN INTENDED AUDIENCE: Every brand has a target audience. Make your data more specific. For an advertisement to be effective, it must be targeted toward a certain audience. Any company's ultimate goal is to increase revenue. Many factors contribute to this, including competitive price, near-perfect quality, and reaching out to the right audience, all of which should be addressed in marketing.
Any successful advertising and sales strategy require an understanding of the target market. They may be contacted through any means, such as websites, newspapers, magazines, and so on, after it has been identified.
This gives the impression that the buyer is being addressed personally. And because the entire approach will pique their attention, the quantity of traffic they will receive in return will be enormous, making the entire endeavor worthwhile.
8. IT SHOULD BE ETHICAL: We have agencies that govern the advertising that is sent out, but agencies and advertisers are also accountable for the information that is sent out, so they must be cautious not to mislead people.
9. MAKE IT EMPATHETIC: Your customers are soft, warm, breathing people who have feelings. You must appeal to your customers' emotions. Be rational, and you'll be able to persuade them of the benefits of buying from you rather than your opponent.
10. PROMOTION: The advantages of the items should be highlighted rather than the characteristics since they relate to the emotional fulfillment of the customer.
11. CHECK OUT YOUR COMPETITORS: Analyze your competition to completely comprehend/know what you can apply. Understand their present operational conditions and performance. Evaluate their strengths, weaknesses, and gaps, then work with what you've learned to identify areas where you can improve.
12. ALWAYS INCLUDE A CALL TO ACTION: Give your viewers a clear direction on what to do after they've seen your advert.
For more advertising information, visit www. adspace.ng